Uvula Audio's Nonfiction Podcasts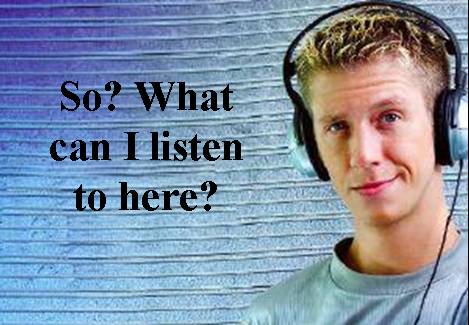 Now Broadcasting

"Science News Update Archives"

Dr. J.J. Campanella has been podcasting hard science news stories for Tony Smith's StarShip Sofa podcast since July, 2008. Most of those stories are no longer available for download and enjoyment. Here we will archive those stories on the Uvula Audio website for your listening pleasure. We hope that you enjoy these fascinating meanderings into the newest findings in science.
2008
Science News update from July, 2008
Science News update from August, 2008
Science News update from September, 2008
Science News update from October, 2008
Science News update from November, 2008
Science News update from December, 2008
2009
Science News update from January, 2009
Science News update from February, 2009
Science News update from March, 2009
Science News update from April, 2009
Science News update from May, 2009
Science News update from June, 2009
Science News update from July, 2009
Science News update from August, 2009
Science News update from September, 2009
Science News update from October, 2009
Science News update from November, 2009
Science News update from December, 2009
2010
Science News update from January, 2010
Science News update from February, 2010
Science News update from March, 2010
Science News update from April, 2010
Science News update from May, 2010
Science News update from June, 2010
Science News update from July, 2010
Science News update from August, 2010
Science News update from September, 2010
Science News update from October, 2010
Science News update from November, 2010
Science News update from December, 2010
2011
Science News update from January, 2011
Science News update from February, 2011
Science News update from March, 2011
Science News update from April, 2011
Science News update from May, 2011
Science News update from June, 2011
Science News update from July, 2011 (Third Year Anniversary!!)
Science News update from August, 2011
Science News update from September, 2011
Science News update from October, 2011
Science News update from November, 2011
Science News update from December, 2011
2012
Science News update from January, 2012
Science News update from February, 2012
Science News update from March, 2012
Science News update from April, 2012
Science News update from May, 2012
Science News update from June, 2012
Science News update from July, 2012 (4th Year Anniversary!!!)
Science News update from August, 2012
Science News update from September, 2012
Science News update from October, 2012
Science News update from November, 2012
Science News update from December, 2012 (Merry Christmas!!)
2013
Science News update from January, 2013
Science News update from February, 2013
Science News update from March, 2013
Science News update from April, 2013
Science News update from May, 2013
Science News update from June, 2013
Science News update from July, 2013 (Happy 5th anniversary!!)
Science News update from August, 2013
Science News update from September, 2013
Science News update from October, 2013
Science News update from November, 2013
Science News update from December, 2013 (Merry Christmas!)
2014
Science News update from January, 2014
Science News update from February, 2014
Science News update from March, 2014
Science News update from April, 2014
Science News update from May, 2014
Science News update from June, 2014
Science News update from July, 2014 (happy anniversary)
Science News update from August, 2014
Science News update from September, 2014
Science News update from October, 2014
Science News update from November, 2014
Science News update from December, 2014 (Merry Christmas!)
2015
Science News update from January, 2015
Science News update from February, 2015
Science News update from March, 2015
Science News update from April, 2015
Science News update from May, 2015
Science News update from June, 2015
Science News update from July, 2015
Science News update from August, 2015
Science News update from September, 2015
Science News update from October, 2015
Science News update from November, 2015
Science News update from December, 2015
2016
Science News update from January, 2016
Science News update from February, 2016
Science News update from March, 2016
Science News update from April, 2016
Science News update from May, 2016
Science News update from June, 2016
Science News update from July, 2016
Science News update from August, 2016
Science News update from September, 2016
Science News update from October, 2016
Science News update from November, 2016